Many recent social media posts, and people we know, have been driving home the point that Memorial Day is NOT the traditional "first holiday of the summer," the designated day for picnics and pool parties, mindless family fun or a four-day weekend drinking binge. Instead, it's a day we're supposed to remember and honor those who gave the "ultimate sacrifice" — that is, they died in service to their country.
As a historian for the family, I was racking my brain to think of any relative I actually knew, who got killed while serving. And I apologize in advance for that: if anyone in the family reads this and brings to mind a fallen hero cousin–please comment or message me and I will update this post. Sadly, many fallen soldiers were young and unmarried when they served and died, and so their ancestral line ended with them.
Here's a story of my 3rd cousin twice removed, who was shot down in 1943 (the war ended in 1945). This came from an old newspaper clipping, which didn't include the date or the publication name, but from some clues, I think it was in the Belvidere (IL) Daily Republican 7 Nov 2007. The code number after his name is a Personal Identifier Number for him on the Familysearch.org web site. If you already have a free familysearch.org account with a pedigree chart in place, you may be able to see some pictures of your ancestors' tombstones using this link , which represents a collaboration between Familysearch and the BillionGraves sites.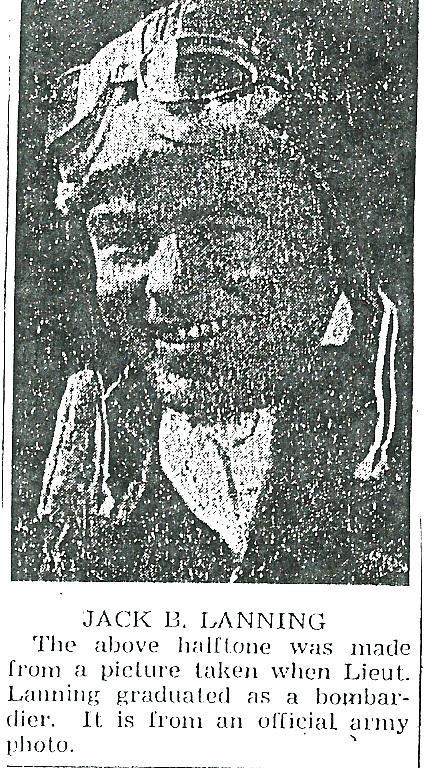 by Dave Grimm

As the nation's "Greatest Generation" breaks ground on the long overdue World War Two memorial in Washington, D.C., tomorrow, Nov. 10, in time for a Veteran's Day 55 years after the end of that crucial conflict, it is time to reflect on one of its most poignant chapters. It is the tale of three young men, two from the Belvidere High School class of 1937, and another a few years behind. Another from the class of 1937 was a friend who was to serve as courier of news about the others. All were members of various units of what was, in that era, the United States Army Air Corps, now the United States Air Force. Three of the four never returned to Belvidere, another was imprisoned for more than a year, until September, 1944, in Rumania, which was until early 1945 under the occupation of Nazi Germany before liberation by the Russians moving their Red Army juggernaut westward to finally crush the Third Reich and its 12-year reign of terror in Europe. Three of the classmates were crewmen on B-24 Consolidated "Liberator" bombers, huge, four-engined, twin-tailed aerial behemoths capable of carrying a minimum crew of eight, more than half a dozen Browning .50 caliber machine guns and over a ton of bombs long distances at high altitudes. These cigar-shaped monsters with their 70 feet of tapered wingspan were chosen to fly into Rumania to a place called Ploesti (pronounced approximately plo-yest-ee) north of the the nation's capitol, Bucharest.

Few people in America outside the petroleum and international transportation industries had ever heard of the place but it was indeed famous, not only in Europe but worldwide as the center of the world's oil production, indeed the birthplace of the oil industry, since it had contained the first producing petroleum well in the world a decade before the same feat was accomplished in 1859 in Titusville, PA, in the United States. In the intervening years, the area became the center for oil production for not-only Europe but also various other markets abroad. For this reason, one of the first items on Adolph Hitler's timetable of aggression was the seizure, occupation and, most important, defense of the mammoth oil-producing and refining area. At the height of its usage by the Nazis, Ploesti was to become the supplier of the gasoline, diesel and heating fuel, lubricants and aviation gas for one-half of the German war machine, ground, sea and air. Many multinational oil companies had refineries there, including a French firm with the highest production capacity in the world. Standard Oil of Indiana also had a refinery which American engineers had built several years before the war. Following several months of planning as well as one ill-fated and rather ill-advised air raid into Ploesti as well as several raids by Russian aircraft prior to America's entry into the European fray, it was decided that a lowlevel raid by heavy bombers would have the advantage of surprise as well as accuracy in an attempt to deprive Hitler of his most valuable non-human resource. This raid would take place Aug. 1, 1943.

The major problem with the strategists' theory was that the Allied forces were still in North Africa, having just defeated the Afrika Korps and had yet to invade Sicily and Italy to provide bases 500 miles closer to Rumania. This raid was to take off from Benghazi in eastern Libya, fly across the Mediterranean to Greece, then Albania, then Yugoslavia, then Bulgaria and finally into Rumania. Once inside that country's borders, the bombers would take a course indicating a raid on Bucharest, then take a heading to the oil center, do their grisly work and return the way they had come. Planes in trouble would continue east- ward to land in Turkey, Bulgaria and Cyprus. There would be no fighter protection, since no fighters or fighter bombers were available with the range capable of accompanying the bomber stream. The 178 planes and crews would be on their own and once arriving at the target, they would fly in at smokestack level, deliver their deadly loads on preselected targets which had been drummed into the heads of both pilots and bombardiers and hopefully, fly out with minimum casualties.

In three separate planes in three separate bomb groups, two members of Belvidere High School's class of 1937 and one from the class of 1942 took their places in the predawn dark of Aug. 1. They were First Lieutenant Jack Lanning and technical sergeants Kenneth Holroyd and Arthur White. Lanning was a co-pilot and the enlisted men were flight engineers who also served as tail turret gunners. Lanning, back in bucolic Belvidere, had been president of his senior class and Holroyd had served as vice-president. Lon Byram, another member of the class was to provide news back to Belvidere of the fate of both men. He was later killed in an air crash in England. Both Lanning and Byram were members of th Bucs' varsity football team. The two Ploesti raid participants weren't to return to Boone County. Lanning went down in his plane, "Wingo-Wango," in the Ionian Sea. Witnesses said the plane crashed on the way to target for no apparent reason, just beginning to spin out of control and crash without communication with his fellows. Holroyd survived the raid but died several weeks later in an air training crash. White, however, lived a saga which is almost beyond belief in its content of luck and courage.

The raid, contrary to plan, produced no surprise as it had been tracked by both German spotters and radar nearly from its point of takeoff. Ploesti, in addition, had the most heavily defended anti-aircraft system in the world, thanks to a commander whose genius at defending against air attack earned him a twelve-year imprisonment in Russia after WWII ended. Also, contrary to plan, the lead bomber group made a wrong turn and headed for Bucharest rather than Ploesti to its north. Following groups changed the flow of the bomber stream, although it was a breach of orders, and made the proper approach to the target and made their bomb runs according to their navigators' flight plans, leavmg the miscreant group to correct its error and arrive at Ploesti to find its targets in a high state of smoking ruin. But, in the process, many of the raiders themselves were in smoking ruins from the murderous crossfire thrown up by the German defenses which ranged from flak towers atop the tallest of the distillation plants to machine gun and cannon emplacements camoflaged as haystacks in the fields surrounding the ring of refineries and supporting pipelines and storage tanks which ringed the city of Ploesti proper.

Medals of Honor were given posthumously to pilots who flew their bombers into flaming storage tanks while gasoline streamed from their long-range fuel tanks which had been ruptured by the flak. Miraculously, other aircraft returned to Benghazi unscathed despite an almost constant attack by fighters of German, Rumanian and Bulgarian air defense squadrons. 55 aircraft returned out of the original 178 which mounted the raid. One of those which didn't return was "Boilermaker 2" which was shot down and landed in a field north of Ploesti near the village of Timisul which was a prison camp although much different than what most Allied prisoners of war were used to. It was a castle belonging to a noble Rumanian family named Kantecazine and a princess of the royal family took the survivors under her wing, protecting them as well as survivors from several other aircraft and interceding with both the German and Rumanian military administrations for good treatment. Art White was one of these prisoners. As a member of the BHS class of 1942 he entered military service in that year, shortly after graduation from high school. Life, according to White in a statement to his wife, could have been worse. "There are a lot worse prison camps to be in," was his assessment, she recalled. – This imprisonment, from which he was released when the Russians overran the area in September, 1944, included visits to the neighboring village, marching outside the barbed wire enclosure to chapel services for both Catholic and Protestant prisoners, and access to not only locally produced foodstuffs and spirits, was a far cry from the morning of departure when, his widow recalled, when the assembled crews nearly all felt that the mission was suicide and that none of them would be coming back. White had the honor of being interned with a wartime celebrity, British airman Douglas Collins, whose escape exploits from various POW cams took him from the Arctic Circle to the Black Sea and became the backdrop for several British and American movies about wartime prisoner of war camps. With Collins, he managed to escape by tunneling from Timisul beneath the wire but was recaptured, beaten and returned to incarceration. According to his daughter, Barbara Feltz, he always remained quiet about his exploits and experiences during WWII until 1980 when a grandson approached him about an interview regarding his wartime experiences for an emergency assignment. White related his story on tape and caused quite a stir among local historians in area schools and the tale was finally told to the Chicago Historical Society. Needless to say, the story earned the grandson five A's for the effort. Arthur White died in 1981 at the age of 56, shortly after his story was told. He-was a carpentry contractor until his death.

The Ploesti raid did little immediate damage to Hitler's oil supply lthough it is believed to have caused a shortage enough to induce the German war machine to begin turning its attention to much greater dependence on synthetic oil research, many products are still sold today when their formulae were taken from German scientists following the Axis surrender. By the time White was released, the Allies were bombing Ploesti night and day, much as they did Germany. By the time of the Russian liberation of Rumania, there had been 23 heavy bombing raids with 9,173 individual fighter and bomber sorties logged and 13,709 tons of explosives had been dropped. To the credit of the Rumanians, the Ploesti plants were still able to produce 20 percent of their full capacity.

TELEGRAM FROM WAR DEPARTMENT SAYS BOMBARDIER WAS IN ACTION IN MIDDLE EASTERN AREA –BELIEVED CERTAIN TO HAVE BEEN ENGAGED IN RAID ON OIL FIELDS IN RUMANIA IN WHICH 20 BOMBERS WERE LOST. Lieutenant Jack B. Lanning, son of .Mr, and Mrs, A .J. Lanning, 921 East Lincoln avenue, Belvidere, is reported "missing in action" by the war department. The forenoon the following telegram was received: Washington, D. C. Aug. 7, 1943. Mrs. Abe J Lanning, 921 East Lincoln Avenue, Belvidere, Illinois, Regret to Inform you report received your Son, First Lieutenant Jack B .Lanning, mlssing in action in middle eastern area since Aug. 1. If further details or other information are received you will be promptly notified. ULIO, The Adjutant General.
Sorry that it makes for such a long read, but there's some pretty fascinating history there.
Our son was thinking of staying home today, rather than getting up at sunrise and putting on his dress blues to march in a parade. But in all good conscience, he did. Happy Memorial Day, and if you feel like entering a comment about your relative who made the ultimate sacrifice, we do appreciate it!